INTERNATIONAL KADAMPA FESTIVALS
"A very special meaningful holiday learning how to find happiness from within your own mind through concentrating on spiritual practice"
Venerable Geshe Kelsang Gyatso Rinpoche
International Kadampa Festivals are special courses taught by the Spiritual Director and Deputy Spiritual Director of the New Kadampa Tradition. The Festivals include teachings and empowerments from the principal Teacher, reviews and meditations led by senior NKT Teachers, chanted meditations and offering ceremonies, and retreats to consolidate and deepen your understanding and experience. Open to everyone, these International Festivals are a wonderful opportunity to meet with Buddhist practitioners from all over the world and share experience and understanding with them.
---
2017 NKT-IKBU INTERNATIONAL
Summer Festival
July 21 – August 5  How to Transform Your Life
A Blissful Journey


with Gen-la Kelsang Dekyong and Gen-la Kelsang Khyenrab

An International Festival of Modern Buddhism
---
The book How to Transform Your Life is an extremely practical manual for eradicating our experience of problems and finding permanent happiness through developing a peaceful mind. It has recently been comprehensively revised by the author, Venerable Geshe Kelsang Gyatso Rinpoche, and at the 2017 Summer Festival Gen-la Kelsang Dekyong and Gen-la Kelsang Khyenrab will give the transmission of the essential practices from this remarkable book. This is a special opportunity not to be missed.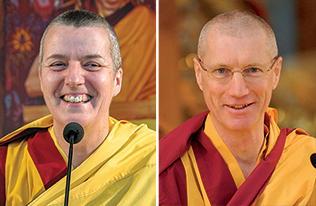 Week one – July 21 – 27

Following Buddha's Path
Blessing empowerment of Buddha Shakyamuni and teachings on the first part of How to Transform Your Life with Gen-la Dekyong. By receiving the blessing empowerment of Buddha Shakyamuni we will establish a special connection with Buddha and receive his powerful blessings to understand and practise the teachings in How to Transform Your Life. In this way, our life will become a truly blissful and meaningful journey.
with Gen-la Kelsang Dekyong
Week two – July 28 – August 5
Completing the Journey
Bodhisattva vow ceremony and teachings on the second part of How to Transform Your Life with Gen-la Khyenrab. Taking the Bodhisattva vow is the gateway through which we enter the Mahayana path and progress towards the attainment of full enlightenment for the benefit of all living beings. We complete this blissful journey by relying on the teachings given in the second part of How to Transform Your Life.
with Gen-la Kelsang Khyenrab